Baltimore's Experts in Basement Waterproofing
Maintaining Your Home with Basement Waterproofing
Are you concerned about water damaging your home? Frequent rainstorms and occasional floods always come with the possibility of damage to your home, especially your basement and foundation. If you need some peace of mind when it comes to water damage and mold exposure, consider basement waterproofing. Taking this measure can protect your home from seasonal rains and help maintain the integrity of your foundation. The team at Storm Waterproofing has the tools and experience necessary to waterproof your Baltimore, MD home and help you rest easy. Learn more about waterproofing and how it can help you keep your home in top shape.
Understanding How Moisture Affects Your Home
Water damage does much more than just surface-level harm to your home and belongings. While it's tempting to simply throw out a water-damaged chair or appliance and move on, it's essential you find the root cause of the damage. Leaving water damage unaddressed can lead to shifting floorboards and ruined drywall. Both of these issues result in costly repair work and put a burden on you and your family. Unfortunately, water damage is rarely confined to your walls and floors. It can also affect your personal belongings, such as family photos, bedding, electronics, and much more.
Water Damage and Your Basement
It's no secret that a water-damaged basement comes with a plethora of health concerns and problems for your walls. However, a damp basement can spell trouble for your basement if left unchecked for too long. When your basement's subfloor is subject to excess moisture, the flooring can start to shift and become an uneven walking surface. As the damage worsens, you might find yourself with foundation cracks in need of repair.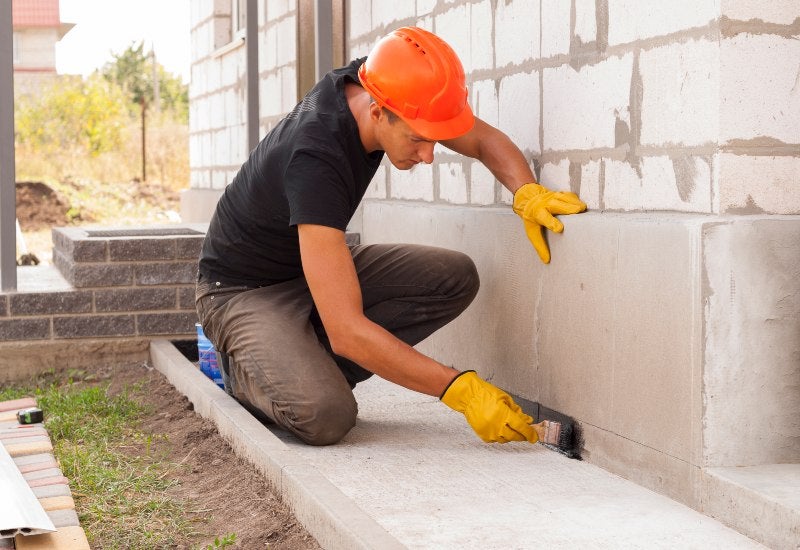 How Water Enters Your Home
We've discussed rainstorms and flooding as one way water can enter your home, but sometimes water can infiltrate your basement through more mundane methods. Our team is well-versed in all the different paths water can take to enter your home. Whenever we evaluate your property, we're always sure to check the most likely entry spots. Besides natural factors, leaking pipes and clogged gutters are the most common culprits of excess water in your basement.
How Do I Know When I Need Waterproofing?
While water damage can go unnoticed, once you know what to look for, many of its signs are easy to point out. Whenever you notice one of these indicators of water damage, be sure to reach out to your local waterproofing company. At Storm Waterproofing, we can help you identify these telltale signs of water damage:
Dark Spots: If you start to notice dark spots and streaks on your walls or siding, they're likely a sign of lurking water damage.
Standing Water: After a rainstorm, check your foundation for standing water. If you find any, this means water isn't being properly navigated away from your home and might cause significant damage to your foundation.
Humidity: Excess humidity in the air or dampness in your basement typically means you have a case of mold. Our mold removal team can take care of the growth as soon as possible.
Dealing with Mold Growth
Finding mold growth in your basement is often distressing. You're likely concerned about mold exposure symptoms or potential black mold build-up. Fortunately, Storm Waterproofing is an experienced mold remediation company that can help you take care of the growth. While some homeowners may be able to remove small mold deposits, we strongly discourage you from taking matters in your own hands. Cleaning up mold yourself puts you at risk of mold poisoning symptoms, and many do-it-yourselfers end up leaving some behind.
Our Basement Waterproofing Process
Our experienced team has developed an air-tight method of waterproofing basements. We can identify the areas where water is most likely to enter your basement and take care of necessary mold treatments. While each of our clients has unique needs, we follow a basic process for each job. Here's what you can expect when you call us for waterproofing:
A thorough evaluation of your property to find the sources of the water
Soil excavation around the foundation, if necessary, to find the leak
Sump pump replacement or installation to direct water away from the foundation
Let Us Help with Waterproofing Your Basement
No matter your home's age or condition, basement waterproofing is always a good idea. It's one of the best ways to avoid the need for a future mold treatment or water damage restoration. At the first sign of water damage to your basement or foundation, get in touch with Storm Waterproofing. Our team in Baltimore, MD is here to help.
Why Choose Us?
We are fully licensed, bonded, and insured
We have over 20 years of experience
We offer free estimates
We offer transferable lifetime guarantees
We are built on 3 generations of basement waterproofing experience
We offer 24/7 emergency service
We use state-of-the-art waterproofing techniques