Foundation Repair
Water & Foundation Repair in the Greater Baltimore Area
If your home suffers from foundation issues, you're not alone. However, foundation damage is a severe problem, and you should not neglect it. Whether the result of poor construction techniques or water damage, it poses an immediate threat to the value and overall structure of your home. Storm Waterproofing offers foundation repair to our neighbors in Linthicum Heights, MD. Basement waterproofing is an all-in endeavor. Sometimes, to achieve a dry basement or crawlspace, you need to invest in foundation repair. Fortunately, our specialists understand foundations and how to repair them.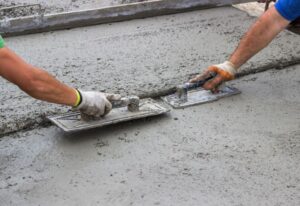 Learn How to Diagnose Foundation Repair
Foundation damage isn't hard to spot. The key is acting when you first notice the problem. Foundation damage results in a gradual shift in the location of the foundation, relative to the ground around it. And it grows worse over time, so you'll want to keep an eye on your house. Make sure its bones are strong and healthy by keeping a lookout for these five common signs:
Cracks
Cracks and fractures are not a good sign, and they can appear anywhere. Get into the habit of inspecting the brick or stone exterior around your home when you cut the grass. If you see cracks, call us. Additionally, any cracks in the walls or floors in your home could indicate a problem.
Settling and Sinking
It might be hard to tell, but if one side of your house seems to be lower than it used to be, you might have foundation damage. Even if you're uncertain, there's no harm in contacting Storm Waterproofing for a free estimate.
Upheaval
Most foundations use the slab technique, meaning the house sits on a large concrete slate. If your foundation is moving up, there's a possibility your home is experiencing the opposite of settling.
Sticking Doors
Sometimes the problem is merely a warped frame. However, if multiple doors in your house stick, then there could be an issue with the foundation. That's because as the house settles, the frames do not compensate, resulting in doors that no longer fit.
Gaps
Look at your windows and doors. Are there gaps around the frames where there used to be none? If there are, then it would be wise to contact Storm Waterproofing. We can visit your home and provide a free estimate. If we find foundation damage, you will receive an accurate quote.
The Benefits of Contacting Us for Foundation Repair
Foundation repair might seem like too much to handle, but there are numerous benefits associated with it. Storm Waterproofing can't recommend it enough. If your home suffers from constant flooding, there is a strong possibility the water damage impaired your foundation. Foundation repair is most beneficial because it:
Makes Your Home More Valuable
If you ever want to sell your home, then fixing foundation repair is critical. No responsible homebuyer will purchase a house with large-scale foundation damage unless it comes at a reduced price. You can get more value from your home by investing in foundation repair now.
Introduces Long-Forgotten Creature Comforts
Foundation repair changes the structure of your house. You might be experiencing the results every day and not realize it. Do you want to open the front door without heaving your shoulder into it? Contact Storm Waterproofing for foundation repair. Do those perilous-looking uneven floors make you nervous? Fix your foundation!
Resolves Flooding Issues
Sometimes, foundation damage causes basement flooding. In these cases, a sump pump only masks the problem. You can solve it by repairing the foundation. Down the line, making this choice can open up a world of new possibilities, including a finished basement, complete with a game room or apartment!
Makes Your Yard Look Better
Everyone takes pride in the appearance of their lawn. If you're an avid gardener or you enjoy mowing the yard, a weak foundation is a bad fit. Repairing your foundation can help you gain the most out of your vegetable garden. It'll even help you cut your grass into a vision worthy of Camden Yards!
Saves Time
Foundation damage fundamentally changes the structure of your home at its root. Over time, it shifts and moves, causing unsightly damage and requiring expensive and time-consuming repairs. As if that wasn't bad enough, the problem only grows worse. Your walls, ceilings, basement, doors, windows, and more pay the price.
Take Advantage of Our Free Inspections Today
We're committed to providing our customers with outstanding service. We pride ourselves on our ability to locate problems and offer an accurate and free estimate. We want you to have options and time to think. We help you to decide by giving you unbiased and professional advice, filling you in on the risks and benefits associated with our foundation repair services. If you have any additional questions, feel free to contact Storm Waterproofing today.
Why Choose Us?
We are fully licensed, bonded, and insured
We have over 20 years of experience
We offer free estimates
We offer transferable lifetime guarantees
We are built on 3 generations of basement waterproofing experience
We offer 24/7 emergency service
We use state-of-the-art waterproofing techniques