Crawlspace Encapsulation Services in Baltimore, MD
Find out How Crawlspace Encapsulation Can Benefit You
Many homeowners don't think much about their home's crawlspace. Not paying attention to this overlooked space in your home could result in moisture problems. Storm Waterproofing provides professional crawlspace encapsulation services in Baltimore and Linthicum Heights, MD. We're here to help you understand crawl space encapsulation benefits and to answer your questions like "what is a crawl space?". If you're unsure if your home's crawlspace is adequately insulated from moisture, you should seriously consider having it inspected by our trained professionals. Our team also offers other waterproofing services, such as crawlspace mold removal, crawlspace sealing, and more. Keep reading to learn more about crawlspace encapsulation, and feel free to get in touch with us if you have any questions.
What Is Crawlspace Encapsulation?
Crawlspaces are usually out of sight, out of mind for homeowners. However, without the proper waterproofing, your crawlspace can quickly become vulnerable to water leaks, mold growth, and pests. All of these issues can cause severe problems for the rest of your home. Professional crawlspace encapsulation can significantly reduce the amount of moisture that can infiltrate your crawlspace. Our services will keep your crawlspace dry while protecting it from damage. Our crawlspace mold removal services can protect your home and family. Storm Waterproofing's professional crawlspace encapsulation process include the following:
Sealing off the floor of your crawlspace with a polyethylene vapor barrier.
Sealing off all of the vents that lead to your crawlspace.
Conditioning the inside of your crawlspace using a dehumidifier, an exhaust fan, or your HVAC system.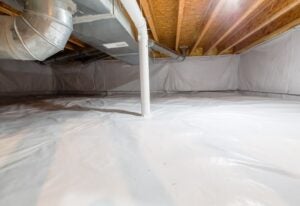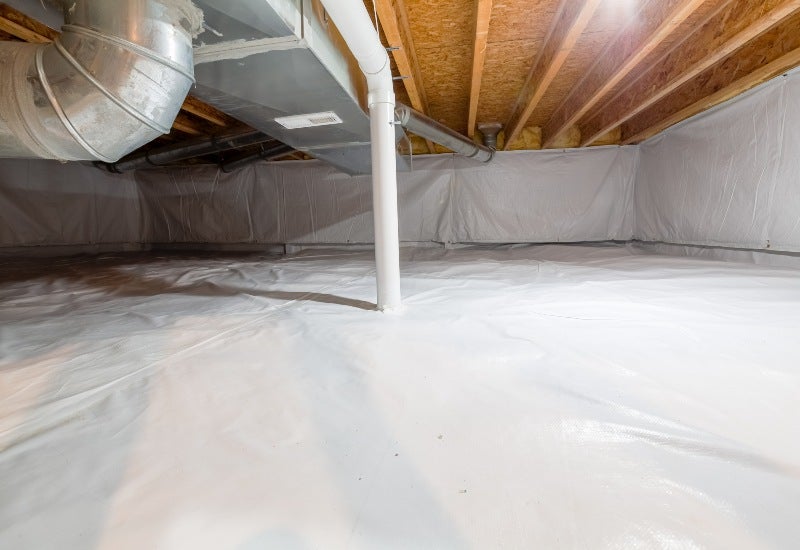 What Are the Benefits of Crawlspace Encapsulation?
It wouldn't make sense to have your crawlspace encapsulated unless it provided benefits. Crawlspace encapsulation is a proactive service and can save you money and hassle in the future. You should have your crawlspace inspected by a trained professional if you notice a musty smell or other signs of rot or dampness. In many cases, you won't notice any signs of moisture infiltration, but a crawlspace inspection is still recommended. The benefits of waterproofing your crawlspace include:
Reducing the relative humidity of your crawlspace by up to 50%.
Keeping your crawlspace space from structural damage caused by dampness, helping its various components to last longer.
Keeping pests from residing inside your crawlspace and gaining access to the rest of your home.
Boosting the air quality in your home.
Improving the insulation of your home and reducing energy bills by making it easier to keep your home at your preferred temperature.
Common Crawlspace Issues
There are many different types of homes in the Baltimore area, and there are also many kinds of crawlspaces. Crawlspaces are prone to mold growth, water leaks, and many other issues. An unsealed crawlspace can become a breeding ground for termites, rodents, snakes, raccoons, and other pests. The team at Storm Waterproofing can encapsulate your crawlspace and protect it from all of these hazards. The consequences of excessive moisture include mold growth, pest infestation, and structural damages. While each home is unique, most crawlspaces face similar problems, including:
Water Seepage – After a period of heavy rainfall in Maryland, the water table around your house can rise to the level of your crawlspace. If the space is not properly waterproofed, it could be vulnerable to significant seepage.
Leaky Pipes – Most crawlspaces have water pipes running through them. When those pipes leak, a severe moisture problem can be created very quickly.
Difficult to Access – Crawlspaces are aptly named because they are difficult or impossible to stand up in. Attempting to access the space yourself could result in injury, depending on the height of your crawlspace.
Other Services We Offer
We're proud to be Baltimore's experts in basement waterproofing. While encapsulating your crawlspace is important, you also need to focus on your basement. Our team can prevent water from causing significant damage to your home and basement. Dark spots, standing water, and humidity are all signs that your basement needs waterproofing. We also offer foundation repair services to make your home more valuable, resolve flooding issues, and make your yard look better. We provide free inspections, which allow us to evaluate the condition of your home's foundation. Our team also offers 24/7 emergency flood services for homeowners in Linthicum and the surrounding areas.
Why Choose Storm Waterproofing?
If you're concerned about your crawlspace, we're the team to call. Storm Waterproofing is proud to be a family-owned and -operated company with more than two decades of experience working with Baltimore area homes. Our waterproofing experts are fully licensed, bonded, and insured for your protection. Our crawlspace encapsulation services are performed by our experts who are available around the clock to serve you. We use the best and most up-to-date waterproofing techniques, and we back up our work with transferrable lifetime guarantees. Contact us today to get started with a free estimate.
Why Choose Us?
We are fully licensed, bonded, and insured
We have over 20 years of experience
We offer free estimates
We offer transferable lifetime guarantees
We are built on 3 generations of basement waterproofing experience
We offer 24/7 emergency service
We use state-of-the-art waterproofing techniques