Why You Need Waterproofed Basement
Serving Baltimore & the Surrounding Areas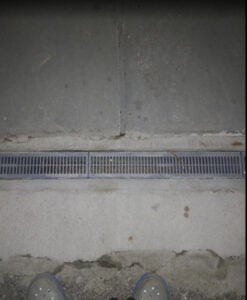 Basement waterproofing provides protection for your home against flooding, water damage, and mold. A waterproof basements not only creates the perfect storage area or family space for everyday activities, it also provides valuable peace of mind. At Storm Waterproofing LLC, our professionals are dedicated to providing top-quality waterproofing and mold removal near Baltimore to improve your comfort and protect the value of your property, regardless of whether you have a finished basement or a basic crawlspace.
Three Signs You Need Basement Waterproofing
Even if you don't believe your basement is at risk for flooding, it's important to know the signs that you could benefit from basement waterproofing. As soon as you notice a possible problem, contacting a professional for an evaluation can help you avoid a flooded basement or crawlspace.
Dark spots or streaks on the walls, ceiling, or floor of your basement indicate areas that have been affected by excess moisture. You should also check the exterior of your home for similar markings on your siding or foundation, as exterior water issues are likely to eventually affect your basement as well.
Standing water around your foundation or in your yard after a rainstorm is a sign of poor drainage. When water cannot run away from your property easily, it may end up in your basement or crawlspace instead.
If your basement feels damp or humid, water damage and mold growth may not be far behind. Even if you haven't seen any other signs of water damage, a humid or dank basement is a subtle sign that your home may benefit form basement waterproofing.
Water Damage and Your Basement
A flooded or damp basement is at risk for water damage. Excess moisture and humidity can affect your property in many ways, including damage to both the surfaces and finishes in your basement, as well as any belongings stored in this space.
Water causes drywall to discolor and crumble; it will also cause paint and wallpaper to blister or peel.
If your basement's subfloor is affected by water, tile or laminate flooring may shift and heave, causing an uneven walking surface.
Fabric, paper, photos, and other belongings are adversely affected by moisture, often developing irreparable damage. These materials may develop mold growth, discoloration, or deteriorate due to contact with water.
Are you concerned about water or mold in your basement? The experienced basement contractors at Storm Waterproofing LLC will help you find the right solution to prevent the hassle and property loss associated with a flooded basement— call us today at (443) 618-8147 to discuss basement waterproofing, sump pumps, and mold cleaning services for your home.
Why Choose Us?
We are fully licensed, bonded, and insured
We have over 20 years of experience
We offer free estimates
We offer transferable lifetime guarantees
We are built on 3 generations of basement waterproofing experience
We offer 24/7 emergency service
We use state-of-the-art waterproofing techniques