Waterproofing and Epoxy Flooring in Baltimore, MD
Epoxy Flooring in Baltimore, MD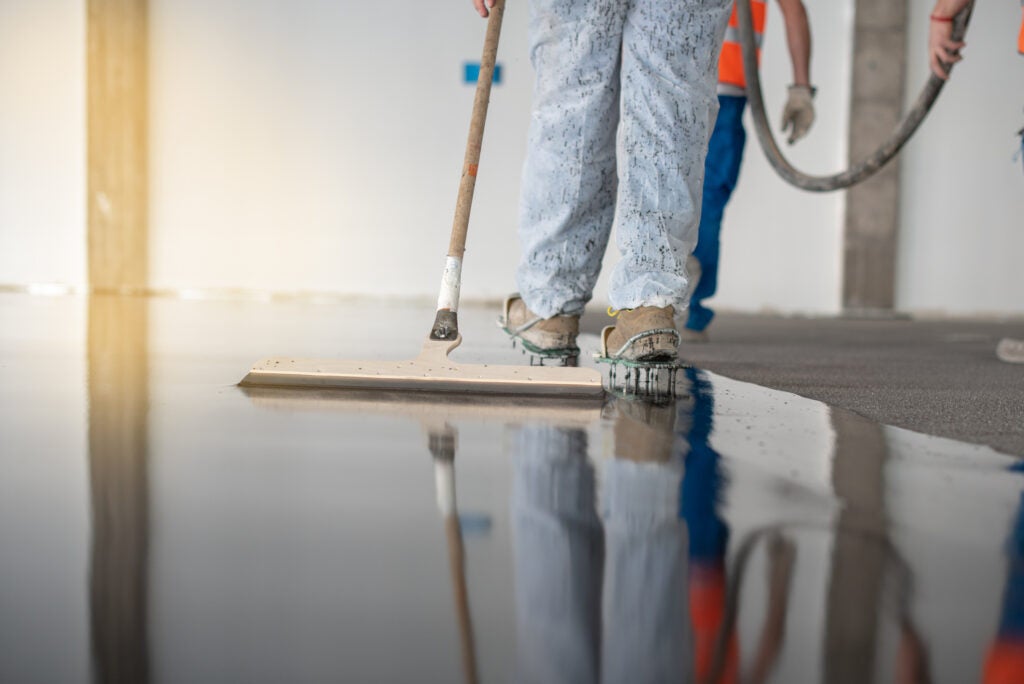 You may have heard of epoxy flooring as a great solution for your garage or industrial space, but did you know that residential epoxy flooring can also be an option? If you are looking for a high-quality, waterproof flooring solution that is also beautiful, an epoxy flooring installation may be right for you. Waterproof floor options can have a variety of benefits in home areas such as epoxy garage flooring or basement flooring. These areas require a moisture-resistant environment, and epoxy flooring can help with moisture control. If you are interested in a creative, durable flooring option for your home, Storm Waterproofing can help explain your options.
Benefits of Epoxy Floor Coatings
You may be wondering why epoxy floor coatings would be a beneficial choice for your home. Some of the benefits of an epoxy floor include:
Versatility: Epoxy floors can be produced in a variety of ways, each designed to meet the specific needs of the space and application.
Durability: Epoxy floors have an extremely secure bond as they are partially absorbed by the concrete. They are resistant to chips in the paint, and UV-resistant, so discoloration will not occur.
Non-porous: Epoxy floor coatings do not allow for bacterial growth, which makes them an ideal flooring option for commercial spaces such as medical facilities or food preparation. It can also be a great option for kennels.
Waterproof: As mentioned, epoxy floorings are moisture-resistant. This makes them ideal flooring options for basements or other areas where you want to protect the environment from excess moisture.
If you are looking for a durable flooring option that is also eye-pleasing and unique, epoxy flooring installation may be a good option for you.
What Are the Advantages of Epoxy Flooring?
There are other factors to consider when deciding whether epoxy flooring is an option for you. Some of the advantages of epoxy flooring include:
Ease of cleaning: Since epoxy is poured flooring, it is completely seamless once it is dried and sealed. This makes it incredibly easy to clean.
Water and stain-resistant: As a solid, non-porous surface, epoxy is both water and stain-resistant, making it a clean, healthy option for you and your family.
Affordable: Epoxy is remarkably less expensive than other, less durable flooring options.
Friendly to the environment: Epoxy flooring does not flake, produce harmful vapors, or create harmful dust. Since it is easy to clean, no harsh chemicals are required to care for your epoxy floor.
Non-slip: Considering it is a non-porous, seam-free surface, you might be surprised to learn how slip-resistant epoxy flooring can be.
The advantages of epoxy flooring are very appealing to a wide variety of commercial and residential clients, making epoxy flooring a top contender for your flooring choice.
Types of Epoxy Floors & How to Choose the Right One for You
There are a number of different types of epoxy flooring options that you can choose from which will depend on your space, your budget, and the look you want to achieve. Some of the types of epoxy flooring include:
Solid or self-leveling epoxy: This epoxy is applied quickly and dries almost as fast. It does not use any water or solvents, so there is no material lost due to evaporation during the drying process. With this type of epoxy floor, you could be walking in your new space in a matter of hours.
Metallic glow epoxy: Imagine the textured look of granite with a non-porous, silky smooth surface. It is much more cost-effective than granite yet provides an elevated look to your space. This option comes in a variety of colors to suit your space and personality.
Vinyl flake flooring: Rustic and colorful, this style gives the appearance of natural stone. You can mix and match colors for a multi-tonal experience.
Metallic stain: This beautiful option resembles the beautiful shine of metal with a rich depth of color and texture. It is a very popular option for kitchens, showrooms, or even garages.
Choosing the type of epoxy floor you want is fun and easy. An epoxy flooring contractor can help you decide what is best recommended for your space based on use and your style preferences.
Contact Storm Waterproofing in Baltimore, MD
If you are interested in epoxy flooring, give us a call at Storm Waterproofing in Baltimore, MD. We are here to answer all of your questions to see if an epoxy floor is right for you. Our team of experts will guide you through the process to a result you will be proud to call your own.
Why Choose Us?
We are fully licensed, bonded, and insured
We have over 20 years of experience
We offer free estimates
We offer transferable lifetime guarantees
We are built on 3 generations of basement waterproofing experience
We offer 24/7 emergency service
We use state-of-the-art waterproofing techniques