Crawl Space Moisture Control in Baltimore, MD
Moisture Control in Basements and Crawl Spaces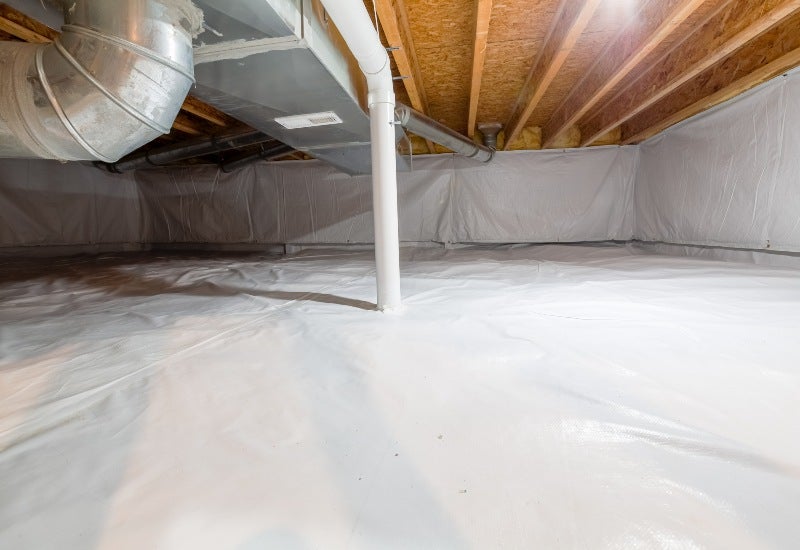 Basements and crawl spaces can be a source of moisture in the home that can be uncomfortable to experience. Excess moisture in the basement can lead to strange smells, mold, mildew, pests, or even foundational damage. If you are using your basement as a livable space, it can make gathering in the basement an unpleasant experience. Moisture control for your basement or crawl space can help treat the symptoms of basement moisture, but it may not ultimately solve the problem. It is important to understand the issue completely so that a proper solution can be put into place. This will stop the problem at the source and prevent further issues and potentially major damage.
Controlling Crawl Space Moisture
A crawl space is so named because as a foundation, there is usually just enough room to crawl into. It provides a lifted space between the first floor of the house and the ground as well as access for pipes, electrical lines, HVAC units, and any other usually hidden parts of a home. Crawl spaces are not usually living spaces, so it is unlikely that you would need to use it unless you are maintaining the equipment that resides there. A professional contractor or service professional will be trained on how to access and navigate a crawl space effectively. Crawl space moisture control is important because some equipment is sensitive to moisture and will not function properly. Excess moisture in the crawl space can also cause mold and mildew issues, making your home unsafe and your family susceptible to respiratory issues or bacterial disease.
There are three primary reasons for moisture in a crawl space. These include:
Humidity: Humidity rising from the ground can cause moisture to build up in the crawl space. Installing a crawl space dehumidifier can help to reduce the amount of humidity and keep moisture buildup at bay
Damp ground: A damp ground releases vapors into the air that can contribute to the level of moisture in a crawl space. Over time, the moisture can cause mold, mildew, and even wood rot if the area is not properly protected.
Flooding or groundwater: Standing water in a crawl space is an immediate problem that must be addressed. Sometimes if standing water gets into a properly sealed crawl space, there is no way for it to get out. This can be an issue even in a well-sealed crawl space.
Addressing the various reasons for moisture in your crawl space will help you avoid major structural or health issues and protect your home from damage due to moisture or standing water.
Methods for Controlling Crawl Space Moisture
The methods for controlling crawl space moisture depend on the reason the moisture is accumulating. Here are the most effective methods for controlling crawl space moisture.
French Drains or Sump Pumps: Installing a French drain or sump pump in your crawl space helps to regulate the level of water in your crawl space. This can help prevent damage to your foundation and keep the crawl space area prepared for any other moisture control methods you may need to use.
Vapor Barriers: The moisture in the ground can rise up in the crawl space as vapors, causing moisture to accumulate in the crawl space. A vapor barrier is a polyethylene sheet used to cover and seal areas prone to moisture. The crawl space encapsulation process helps to seal off the crawl space to prevent excess moisture from doing any damage.
Dehumidifier: A dehumidifier works to remove excess moisture from the air and keep the environment as dry as possible. It is an integral part of the encapsulation process. For a dehumidifier to work properly, the environment must be clean and properly sealed.
These methods will all serve to control the moisture in your crawl space, which can prevent foundational issues and protect your family from environmental hazards such as mold, mildew, and pests.
Contact Storm Waterproofing in Baltimore, MD
Over time, your home can shift, causing cracks and leaks in the foundation. Regular inspections are important to prevent any small problem from becoming a disaster. If you are noticing signs of moisture in your basement or crawl space, it may be time to give the experts at Storm Waterproofing a call. We can help safeguard your home to make it a healthier, safer place for you and your family. Contact us for a free estimate today.
Why Choose Us?
We are fully licensed, bonded, and insured
We have over 20 years of experience
We offer free estimates
We offer transferable lifetime guarantees
We are built on 3 generations of basement waterproofing experience
We offer 24/7 emergency service
We use state-of-the-art waterproofing techniques