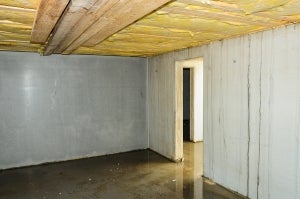 If your house has a basement, you probably know that it can be rather damp compared to other rooms in your home, especially if it's unfinished. Homeowners who rarely enter their basements, or those who use them primarily for storage, tend to be unfazed by a little dampness. However, moisture can be a real issue because it allows mold to grow, among other things. Moisture is of particular concern if you plan to create more living space, which will require waterproofing your basement. Before you embark on a costly renovation project, you should know what measures you can use to prevent moisture in your basement.
Stop Water from Entering
There are many ways to stop water from entering your basement. Firstly, make sure that your downspouts are in good working order. To increase their efficiency, extend them so that they are draining rainwater at least 10 feet away from your house's foundation. Secondly, create a waterproof basement by sealing any concrete or gaps in it. Since concrete is porous, it can absorb a great deal of water. And gaps around egress windows or doorjambs can allow water vapor to enter. Lastly, inspect and maintain your plumbing. Leaky pipes or drains can cause a big problem. If you suspect faulty plumbing, call a professional immediately.
Install a Perimeter Drain
A perimeter drain is another safeguard against unwanted water in your basement. They are very useful because they divert rising groundwater away from your foundation. To ensure their effectiveness, keep perimeter drains clean and protect them from damage.
Invest in a Sump Pump
If your basement is below the water-table line or if you routinely experience flooding during the rainy season, install a sump pump. Not only is it a good preventative measure, but it also gives you piece of mind that your basement will not flood while you are asleep or away on vacation or business.
Go High Tech
There are several gadgets on the market that can prevent water intrusion by detecting leaks in pipes or from rainwater. By using sensors within valves or on the floor, these devices can sound an audible alarm, shut off power or valves, or alert you via email or text message when unwelcomed water is present. A basement waterproofing company in Baltimore can tell you more about the latest advancements in waterproofing technology.