Your home's foundation is essential for the building's function and durability, and it is responsible for holding the house up, sealing out moisture, insulating the interior, and providing stability. To catch small problems before they turn into major ones, watch for the following signs that could mean you need foundation repair near Baltimore :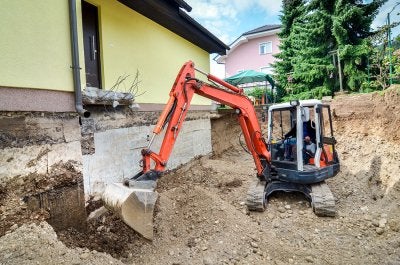 Poor Air
Have you noticed that the air in some parts of your home seems earthy, musty, or damp? If so, then you may have an insulation problem due to gaps in the foundation. This type of issue typically occurs around floor joints and can lead to mold growth and higher utility bills. While sump pump installation and basement waterproofing may help this issue, foundation repair might be necessary as well.
Sticky Doors
Have you experienced trouble opening and closing your windows and doors? This issue sometimes develops when your home's frame becomes warped due to a failing foundation.
Cracked Walls
Have fracture lines appeared anywhere on your home's interior or exterior? If so, then there is a good chance that your foundation needs attention. This warning sign occurs when sinking or moving earth causes the building's structure to stretch and crack. When left untreated, this foundation issue can cause a wall to bow inward and eventually collapse.
Distorted Floors
When a home needs foundation repair, the evidence can sometimes show in the flooring. If your floorboards are warped or if they are no longer flush with your interior walls, then the foundation may be losing its stability.
Water Damage
Among the leading causes of a failing foundation is poor drainage. When water gets trapped around your home instead of draining outward, it can cause harm to the structure. Also, if you notice that the drainage around your home has lessened, this can indicate that the foundation is allowing water to drain downward and accumulate around your home. Signs of water damage can include stains on walls, mold growth, warped floors, and musty odors.